Fordeler ved å handle hos DJI Oslo:
✔ Norges offisielle DJI butikk
✔ Rask produktsupport
✔ Hurtig reparasjon
✔ Rask levering
✔ Kjøp nå, betal senere
✔ Først i Norge med nye produkter
DJI FPV Drone
På lager
Riv gjennom skyene med hastighet, kraft og full kontroll. Gå inn i det ukjente
...og omdefiner flyging.
Fly gjennom himmelen på måter som virker umulige. Vi mistet aldri vår lidenskap for å fly, og med DJI FPV, har denne lidenskapen gjort fantasi til virkelighet. Gjør deg klar til å bevege deg inn i det ukjente med denne oppslukende og intuitive drone-plattformen.
FPV har aldri sett så bra ut
Stilig og aerodynamisk, DJI FPV-dronen leverer kraftige motorer, batterilevetid og vindmotstand, noe som gjør dette systemet like dyktig som det er visuelt slående.
DJI FPV skiller seg ut på flere måter enn én. Sportslige LED-lys foran og justerbar lysfarge på armene, DJI FPV tillater piloter å gjøre flyene sine like unike som de er.
Oppslukende på ett helt nytt nivå. Kontroll uten sidestykke.
Opplev spenningen med DJI FPV Goggles V2 [1] og DJI FPVs superbrede 150° FOV. [2] HD-videooverføring med opptil 120 bilder per sekund gir deg en ultrajevn sanntidsvisning av flyturen din.
Enten du er en erfaren FPV-pilot eller skal fly FPV for første gang, DJI FPV tilbyr tre intuitive flymoduser som lar enhver pilot fly selvsikkert helt fra første tur.
S-Modus
Få det dynamiske utseendet til FPV-opptak enkelt i S-modus. Denne hybridflymodusen kombinerer friheten til å fly manuelt med de forenklede kontrollene fra tidligere DJI-droner.
N-Modus
Ideell for nye piloter, N-modus tilbyr oppslukende flyturer med tradisjonelle flykontroller sammen med sikkerhetsfunksjoner fra DJI slik som hindringsfølelse. [3]
M-Modus
Fly i M-modus for fullstendig, ubegrenset kontroll og få den fulle FPV opplevelsen. Tilpass parametere og få en flyopplevelse og bilder som er helt utenom det vanlige. [4]
DJI Motion Controller
Ta flyopplevelsen din til nye høyder med den helt nye DJI Motion Controlleren. Denne kompakte og intuitive enheten lar flyet manøvreres basert på dine naturlige håndbevegelser. Dette er ikke bare en FPV-innovasjon. Det er en helt ny måte å fly på.
Emergency Brake & Hover
Selv for eksperter kan manuell FPV-flyging være skremmende. Derfor kommer DJI FPV med en Emergency Brake & Hover-funksjon. Bare trykk inn knappen på fjernkontrollen mens du flyr i hvilken som helst modus, i hvilken som helst hastighet, og flyet stopper og svever stabilt i løpet av få sekunder.
Avanserte sikkerhetsfunksjoner
En ekstra bunnlampe, Smart Return to Home (RTH), RTH med lavt batterinivå og hindringsfølelse fremover og nedover er alle integrert i DJI FPV for å sikre en trygg flytur, selv i høye hastigheter. [3]
Bildekvaliteten du forventer fra DJI
Få resultater som samsvarer med intensiteten på flyturene dine.
Kraftige fremdriftsegenskaper kombinert med en 150° super-bred FOV gir en uovertruffen sikt. 4x Slow Motion, RockSteady-stabilisering og forvrengningskorrigering gir pilotene jevnere, mer dramatiske uttrykk.
Opptak utenom det vanlige
DJI FPV-dronen kan spille inn 4K/60 fps-video med opptil 120 Mbps, og fanger skarpe detaljer som gjør at opptakene ser like spennende ut som flyturen.
RockSteady stabilisering
Uansett hvor dynamiske manøvrene dine blir, sørger RockSteady EIS-teknologi for at opptakene dine er ekstremt stabile.
*Både H.264 og H.265 støttes, noe som gir deg flere videoredigeringsalternativer. [5]
Møt O3
DJI O3 (OcuSync 3.0) Transmission System ble tilpasset for å matche de unike behovene til DJI FPV. Nyt krystallklar videooverføring i sanntid, selv på avstander opptil 6km(CE).
Automatisk bytte for sømløst signal
DJI FPV støtter automatisk veksling mellom 2,4 og 5,8 GHz frekvenser og gir en bitrate på opptil 50Mbps, [8], noe som reduserer hakking og artefakter betydelig. High-gain antenner på dronen inkluderer tre sendere og fire mottakere for å forsterke signalet, noe som resulterer i en stabil og pålitelig video-feed.
*Hvis signalet kobles fra, vil DJI FPV automatisk aktivere RTH.
Forpliktet til et trygt luftrom

En optimalisert opplevelse
DJI FPV gir brukerne et ekstra sikkerhetslag med innebygd Automatic Dependent Surveillance-Broadcast (ADS-B). Dette systemet mottar flyinformasjon om bemannede fly i ditt område og sender advarsler til Goggles V2, noe som gir deg nok tid til å unngå bemannede fly i nærheten. [1]
Lett utskiftbare deler
Gimbalen, landingsbena og toppskallet på DJI FPV-flyet er modulært og lett å bytte ut, noe som gjør reparasjoner enklere. DJI Care Refresh er også tilgjengelig, og tilbyr dekning for et bredt spekter av skader og gir deg større trygghet mens du flyr. [9]
DJI Virtual Flight App [10]
DJI Virtual Flight-appen lar brukerne øve på å fly i naturtro, simulerte scenarier før de går inn i den virkelige verden. Bare koble DJI FPV Goggles V2 og fjernkontrollen, så er du klar til å mestre flyging i et risikofritt virtuelt miljø.
Ha en tilskuer i Audience Mode
DJI FPV støtter Audience Mode. Bare knytt en annen DJI FPV Goggles V2-enhet til kanalen din, så er du klar til å dele utsikten.
Dronen er klar til å fly, og det er du også
Glem kompliserte monteringer og masse ledninger. DJI FPV Combo tilbyr alt du trenger, montert og klar til bruk i én eske. Bare slå på og aktiver dronen, fjernkontrollen og brillene og sett i gang.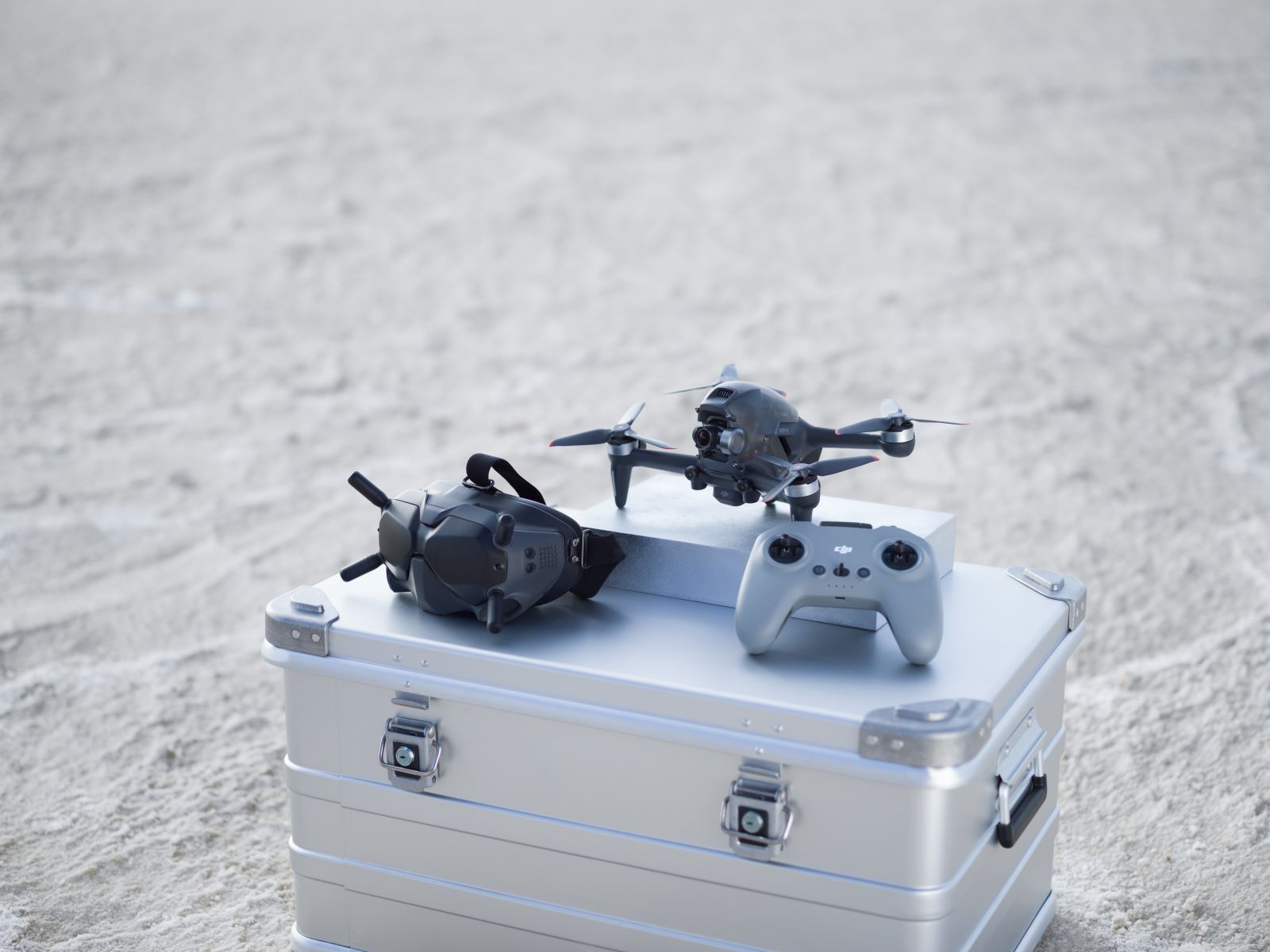 Fotnoter:
1. Før du flyr til DJI FPV, må du sjekke lokale lover og regler. Forsikre deg om at flyvningene dine gjennomføres trygt og i samsvar med alle lokale lover og regler.
2. 150 ° FOV gjelder bare når du tar bilder med 50 eller 100 bilder per sekund.
3. Hindringsgjenkjenning er kun tilgjengelig når flyet er i N-modus. I denne modusen vil DJI FPV automatisk senke hastigheten når den oppdager hindringer, men den stopper ikke automatisk.
4. For å sikre flysikkerhet når du bruker M-modus, anbefales det å ha en annen person til stede for å observere flymiljøet. For å oppnå en mer presis opplevelse når du bruker M-modus, juster F1-skruen på baksiden av kontrollpinnen (høyre side hvis du flyr i Mode 1, venstre side hvis du flyr i Mode 2) for å deaktivere resentrering.
5. DJI FPV-flyet støtter to videokodingsformater, DJI FPV Goggles V2 kun støtter H.264.
6. I 810p/120fps Smooth modus er videooverføringsforsinkelsen lavere enn 28ms; i 810p/60fps HD-modus er videooverføringsforsinkelsen lavere enn 40ms.
7. FCC-kompatibel. Målingene ble tatt i uhindrede omgivelser uten forstyrrelser. Følg alltid lokale regler og forskrifter, og fly dronen din innenfor synsfeltet med mindre annet er tillatt.
8. Den høyeste bitraten for videooverføring er 50Mbps. Målt i et åpent, utendørs miljø uten hindringer eller forstyrrelser.
9. DJI Care Refresh (DJI FPV) er en serviceplan som gir deg større trygghet under flyturen. DJI Care Refresh (DJI FPV) gir erstatninger for en liten ekstra kostnad. Hvis du kjøper DJI Care Refresh (2-års plan), vil du få en års forlengelse av dekningen.
10. DJI Virtual Flight-appen støtter for øyeblikket kun iOS-enheter.
11. Denne funksjonen vil være tilgjengelig i en fremtidig firmwareoppdatering. Overførte bilder fra brillene til appen kan sendes til en smarttelefon via kabel (USB-C til USB-C eller USB-C til Lightning).
12. Fly Spots-funksjonen er for tiden bare tilgjengelig i Kina. Alle flyplasseringer som vises med Fly Spots-funksjonen er basert på frivillig delte posisjonsplasseringer fra SkyPixel-brukere. DJI samler aldri inn eller deler brukerdata uten brukerens samtykke. Sjekk og følg gjeldende regler uansett hvor du flyr.