Fordeler ved å handle hos DJI Oslo:
✔ Norges offisielle DJI butikk
✔ Rask produktsupport
✔ Hurtig reparasjon
✔ Rask levering
✔ Kjøp nå, betal senere
✔ Først i Norge med nye produkter
EcoFlow DELTA 1300 Power Station
Innkommende
(Nettlager, leveringstid 3-4 dager med Posten)
DELTA 1300 Power Station representerer den nye standarden for batteridrevne generatorer. Kompatibel med et bredt spekter av enheter, kan du holde strømmen i timevis når som helst og hvor som helst.
LADER 0% -> 80% INNE 1 Time EcoFlow patent X-Stream Technology gir DELTA1300 mulighet til å lade opp med 10 ganger hastigheten til de fleste bærbare kraftstasjoner i markedet
6x 1800W AC OUTLETS & 1260Wh KAPASITET Den store omformerbelastningen gjør det mulig for DELTA1300 å drive de fleste husholdningsapparater og kraftige DIY-verktøy under 1800W (3300W Surge, Pure Sine Wave ) med 1260Wh kapasitet
RASKESTE OPPLADNING MED SOLAR OG BIL DELTA1300 kan lades helt opp av solcellepaneler på omtrent 4 timer, og fulladet gjennom en 12/24V carport på 10-12 timer.
POWER 13-ENHETER Samtidig

DELTA1300 Passer til alle porter du noensinne vil trenge for å gi strøm til enheter hvor som helst, så du vil alltid føle deg hjemme.
Produktinformasjon
Materiale
Faq
Ecoflow Delta 1300 er en kraftig bærbar kraftstasjon. Delta 1300 er revolusjonerende sammenlignet med lignende enheter på markedet. Enheten har et kraftig 1300 Wh litium-ion-batteri som kan lades for 80% via nettstrøm i løpet av en time. Delta 1300 har blant annet 4 vekselstrøm-porter (230 V) med en maksimal effekt på 1800 W (3300 W peak power), men også 2 USB-C PD-porter (60 W). Totalt er det 11 produksjonsalternativer. Med en Delta 1300 kan du for eksempel lade en smarttelefon 85+ ganger, men også en 50-tommers TV i 15+ timer eller en coolbox i flere dager.
Delta 1300 kan lades på forskjellige måter, raskest er via vekselstrømadapteren. Enheten har en hurtigladet inngang på 1200 W via nettstrøm og kan derfor lades fullstendig i løpet av 2 timer (for 80% på 1 time). Delta 1300 kan lades via solcellepaneler i løpet av 4-6 timer i gode værforhold. Maksimal inngang for dette er 400 W.
Displayet viser nøyaktig hvor mye energi som brukes (utgående strøm) og generert (innkommende strøm) og hvor mye energi som fremdeles kan brukes.
Delta 1300 kan brukes når som helst og hvor som helst. Som nødforsyning hjemme, eller som en ideell strømforsyning på ferie. Med en vekt på bare 14 kg er Ecoflow Delta 1300 enkel å flytte.
1 time 0 til 80%
Den raskeste oppladningsfrekvensen
De siste to årene har vi viet vår tid og energi til å lage X-Stream Recharge Technology. Denne teknologien gir den raskeste oppladningshastigheten på markedet, og arbeider 10 ganger raskere enn konkurrerende merker av batteridrevne generatorer. Dette gjør at DELTA kan lades helt opp på under to timer ved bruk av et vanlig vegguttak.
400W - Max Solar Input
I perfekt sollys og 400W solcellepaneler kan DELTA lades helt opp på bare fire timer. Kompatibel med enhver solenergiinstallasjon Universal Solar Input.
130W - Maks inngang for billading
DELTA kan lades helt opp på bare 10 timer.
Power livet ditt
Power arbeidet ditt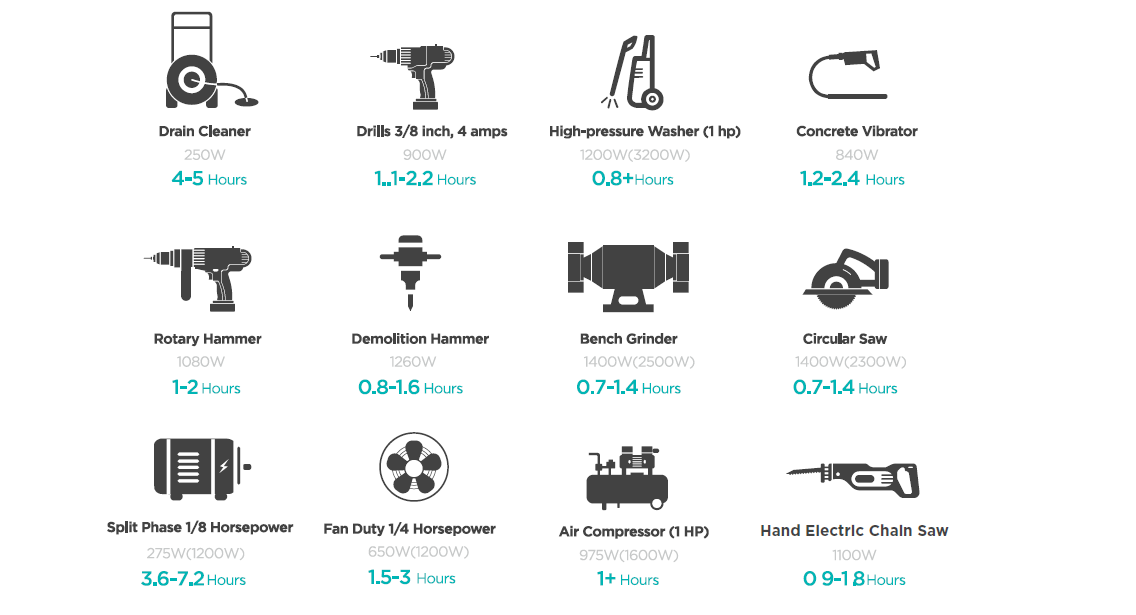 1800W AC Output
DELTA kan lade alt i husholdningen din, alt fra lys til el-verktøy på verkstedet ditt. Det kan til og med lade det elektriske kjøretøyet ditt i nødstilfeller!
EcoFlows patenterte X-STREAM ladeteknologi
Power Management System konverterer DC til AC og AC til DC på den mest effektive måten, slik at du kan lade DELTA fullt ut bare to timer. Den har beskyttelsestiltak på plass, som strekker seg strømstøt opp til 3300W og forhindrer overbelastning.
Avbruddsfri strømforsyning (UPS)
I tilfelle avbrudd kommer UPS-funksjonen godt. Når DELTA oppdager en strømbrudd, sparkes den automatisk i giret, noe som lar en datamaskin eller et av de mest følsomme verktøyene du ikke har råd til å tape, fortsette å kjøre.
PRODUCT SPECIFICATIONS
Brand
EcoFlow
Size
39.0 x 19.4 x 26.4 cm
Weight
14 kg
Material
Plastic
Battery type
Lithium-Ion
(800+ life cycles = -40% battery capacity)
Battery capacity in Wh
1260 Wh
Output USB
2 x USB-A
2 x Fast Charge USB Port
2 x USB-PD Port: 60W per port
Output DC
12 V Car Port
Output 220 V
4 x AC 230 V (EU sockets)
total max. 1800 W continuous load
total max. 3300 W peak load
Input DC
Wall Charger port 1200 W
Universal Solar Charging (MC4) port
400 W / 65 V max.
Waterproof
Water Resistant Cover (IP54)
Overcharge protection
Yes
Charge indicator
Yes
Operating temperature
-20-45 C
Recharge time via AC
Yes (1-2 hours)
Spørsmål 1: Hvilke enheter kan EFDELTA drive?
A: Den 6 rene sinusbølgen vekselstrømuttak på EFDELTA kan gi strøm til verktøy og enheter mindre enn 1800 watt (bølge til 3300 W).
Spørsmål 2: Kan lades og utlades samtidig? Hva er lydnivået til EFDELTA?
A: Ja. Støynivået vil være mindre enn 50DB (2 meters avstand).
Spørsmål 3: Hvordan velge solcellepanel og hva er ladetiden?
A: Utstyrt med EF ECOFLOW MPPT-kontroller, er EFDELTA kompatibel med ethvert solcellepanel (KUN MC4-port) som nedenfor:
Åpen kretsspenning (OCV): 10-65V / 10A, 400W Maks. (MC4 til XT60-kontakt inkludert)
Ladetid: Avhenger av inngangseffekten til solcellepanelet (styrken til det direkte solskinnet, realistiske data varierer fra forskjellige temperaturer, vinkler, vær osv.)
Spørsmål 4: Hva er ladetiden når EFDELTA lades med en bilportkabel?
EFDELTA kan lades fullstendig med en 12 / 24V DC 10A Max. billaderport på 10-12 timer.