Fordeler ved å handle hos DJI Oslo:
✔ Norges offisielle DJI butikk
✔ Rask produktsupport
✔ Hurtig reparasjon
✔ Rask levering
✔ Kjøp nå, betal senere
✔ Først i Norge med nye produkter
DJI Zenmuse P1
Ikke på lager
Zenmuse P1 - Efficiency through Flexible Full-frame Photogrammetry
Den nye standarden for luftmåling
Zenmuse P1 integrerer en fullformatsensor med utskiftbare objektiver med fast fokus på en 3-akset stabilisert kardan. Designet for fotogrammetri-flyoppdrag, tar effektivitet og nøyaktighet til et helt nytt nivå.
Produktinformasjon
Materiale
Faq
Din Go-to Tool for Aerial Photogrammetry
Ekstraordinær effektivitet
P1 inkluderer en fullformat, lavstøysensor med høy følsomhet som kan ta et bilde hver 0,7 sek under flyet, og som dekker 3 km 2 [2] i en enkelt flytur.
Bemerkelsesverdig nøyaktighet
Zenmuse P1 er utstyrt med en global mekanisk lukker og det helt nye TimeSync 2.0-systemet, som synkroniserer tid på tvers av moduler på mikrosekundivå.
Robust allsidighet
Lag 2D, 3D og detaljerte modeller takket være den integrerte 3-aksede kardanarmen som kan utstyres med 24/35 / 50mm linser og Smart Oblique Capture-funksjonen.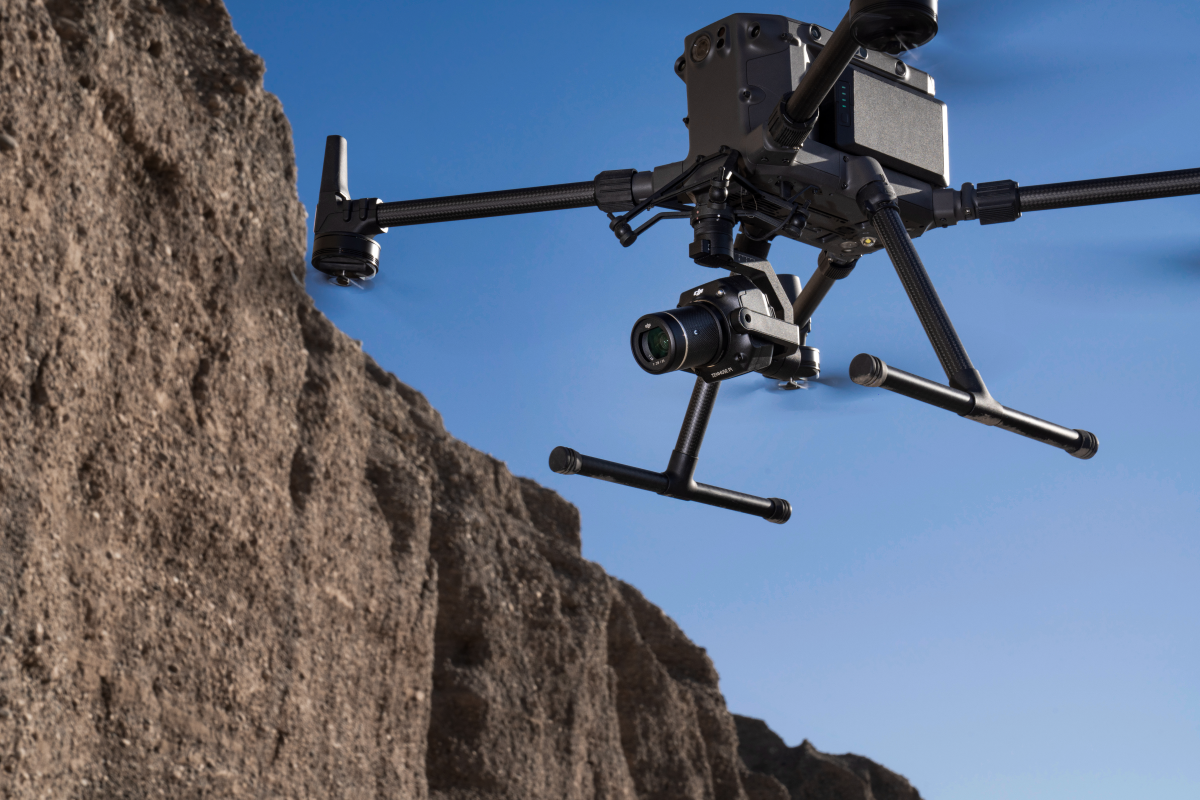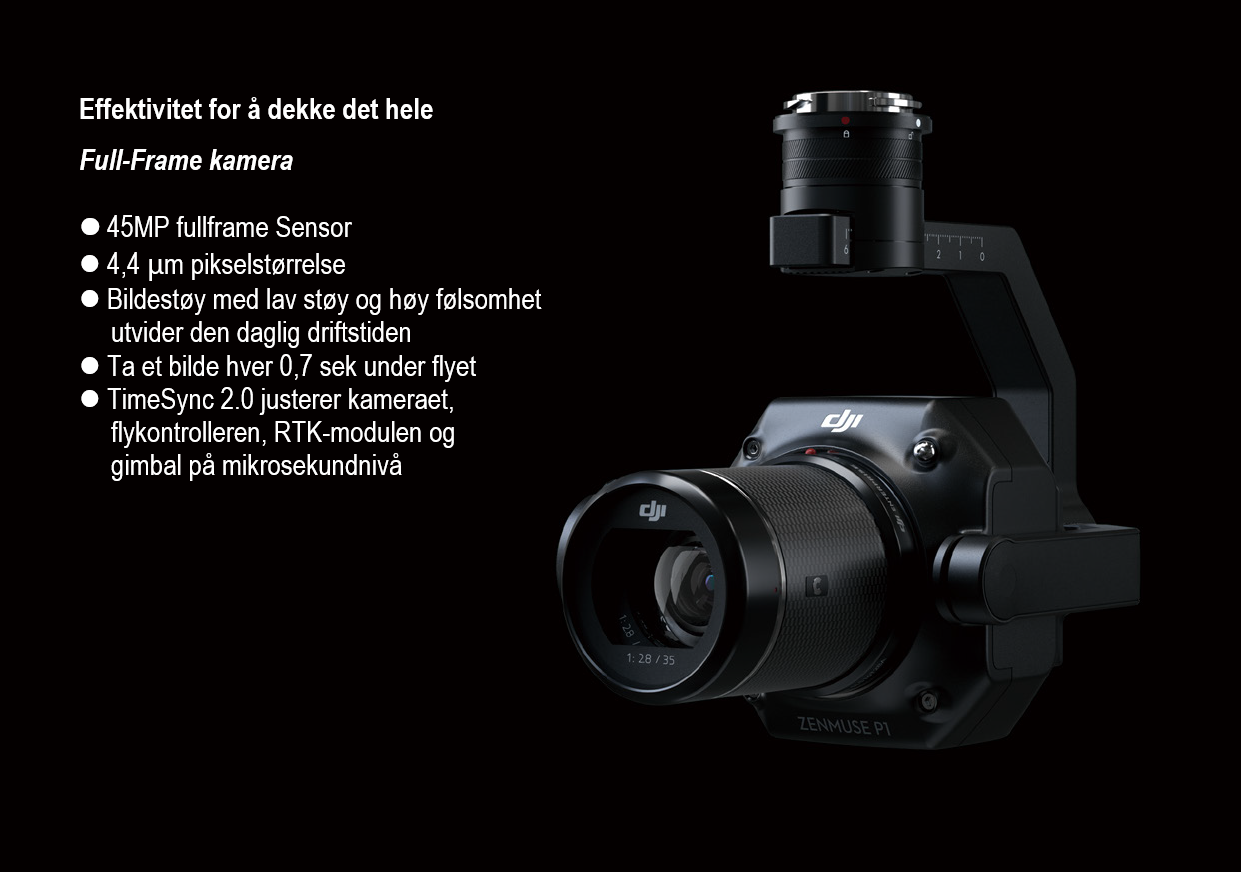 Fleksibilitet for å fange opp alt
Flere linsealternativer med fast fokus
Global Mechanical Shutter med en lukkerhastighet på 1/2000 sekunder

Sender median eksponeringspuls i mikrosekunder

Støtter 24/35 / 50mm linser med DJI DL-fester
Arbeid smart, arbeid fort
Smart Oblique Capture
Dekk til 7,5 km2 på en enkelt arbeidsdag med P1. Forbedre effektiviteten til det skrå fotograferingsoppdraget ditt ved hjelp av Smart Oblique Capture, der kardanarmen roterer automatisk for å ta bilder i de forskjellige vinklene som trengs. Bare bilder som er viktige for rekonstruksjonen, vil bli tatt i utkanten av flyområdet, og øker effektiviteten etter prosessering med 20% til 50%.
Feltarbeidsrapport
Bekreft datakvaliteten umiddelbart etter flyging ved å sjekke posisjonsdata og antall bilder som er anskaffet, samt RTK-status og posisjonsnøyaktighet.
Smart datahåndtering
Din misjonsdataadministrasjon - strømlinjeformet.
Oppdragsresultatfiler blir automatisk assosiert med oppdragets navn og oppdragstid.
Et sentralisert lagringssted for bilder, GNSS-data og TimeStamps. MRK-filer.
Bildemetadataene inneholder kameraets indre og ytre parametere og statusen til RTK.
En misjonsmodus for ethvert scenario
2D Orthomosaic Mission
Generer ortomosaikk uten GCP ved bruk av P1, perfekt for operasjoner i middels til stort område.
3D skrå oppdrag
Få enkelt skrå bilder fra flere vinkler som oppfyller 3D-modelleringskrav på tvers av bransjer som byplanlegging og nøyaktige matrikkelundersøkelser på sentimeternivå for å betjene 3D-virkelighetsmodeller og smart byplanlegging.
Detaljert modelleringsoppdrag
Få tak i bildedata med ultrahøy oppløsning på vertikale eller skrå overflater fra en sikker avstand som gjenskaper subtile strukturer, strukturer og funksjoner, for detaljerte rekonstruksjoner, geologiske undersøkelser, bevaring av kulturarv, hydraulisk konstruksjon og mer.
Kartlegging i sanntid
Samle geografisk informasjon om store områder i sanntid ved hjelp av DJI Terra, slik at team raskt kan ta avgjørende beslutninger.
DJI Zenmuse P1 Specifications
General
Dimensions 198×166×129 mm
Weight Approx. 787 g
Power 13 W
IP Rating IP4X
Supported Aircraft: Matrice 300 RTK
Operating Temperature Range: -20° to 50° C (-4° to 122° F)
Storage Temperature Range: -20° to 60° C (-4° to 140° F)
Absolute Accuracy Horizontal: 3 cm, Vertical: 5 cm *
* Using Mapping Mission at a GSD of 3 cm and flight speed of 15 m/s, with an 75% front overlap rate and a 55% side overlap rate.
Camera
Sensor
Sensor size (Still): 35.9×24 mm (Full frame)
Sensor size (Max video recording area): 34×19 mm
Effective Pixels: 45MP
Pixel size: 4.4 μm
Supported Lenses
DJI DL 24mm F2.8 LS ASPH (with lens hood and balancing ring/filter), FOV 84°

DJI DL 35mm F2.8 LS ASPH (with lens hood and balancing ring/filter), FOV 63.5°

DJI DL 50mm F2.8 LS ASPH (with lens hood and balancing ring/filter), FOV 46.8°
Supported SD Cards SD: UHS-1 rating or above; Max capacity: 128 GB
Storage Files: Photo / GNSS Raw Observation Data/ Image Log File
Photo Size: 3:2 (8192×5460)
Operation Modes: Capture, Record, Playback
Minimum Photo Interval: 0.7 s
Shutter Speed
Mechanical Shutter Speed: 1/2000-1/8 s
Electronic Shutter Speed: 1/8000-8 s
Aperture Range f/2.8-f/16
ISO Range Photo: 100-25600;Video: 100-3200
Video
Video Format: MP4
Video Resolution: 16:9(3840×2160)
Frame Rate: 60fps
Gimbal

Stabilized System: 3-axis (tilt, roll, pan)
Angular Vibration Range: 0.01°
Mount: Detachable DJI SKYPORT
Mechanical Range: Tilt: -125° to +40°; Roll: -55° to +55°; Pan: ±320°
Generell

Hva er oppløsningen på bildene tatt av P1?

P1 tar bilder med en oppløsning på 8192 * 5460, eller omtrent 45 megapiksler.

Hvilke bilde- / videoformater støttes?

P1 støtter følgende bilde- / videoformater:
· Bilder: JPEG, JPEG + DNG;
· Videoer: MP4.

Hva er det korteste intervallet for kameraet?

Det korteste intervallet for kontinuerlig fotografering av P1 er 0,7 sekunder.

Hva er det mekaniske lukkerhastighetsområdet til P1?

1/2000-tallet - 1/8-årene.

Hva er den eneste pikselstørrelsen på P1?

Den eneste pikselstørrelsen på P1 er 4,4 μm.

Hvilke objektiver støtter P1?

P1 støtter 24 mm, 35 mm og 50 mm linser med DL-fester.

Er det andre objektiver tilgjengelig for P1?

Nei, for øyeblikket støtter P1 bare tre bransjespesifikke linser. Linsene til P1 er optimalisert for kartlegging og kartlegging av scenarier, inkludert optisk parameterskriving, innspilling av objektivytelse og påminnelser. Objektiver med andre DL-fester kan ta bilder og videoer manuelt når de er installert på Zenmuse P1-kameraet, men kan ikke støtte kartlegging og kartlegging.

Hvilke droner støtter P1? På hvilken gimbalport kan den installeres?

Foreløpig er det bare M300 RTK som støtter P1. P1 kan bare installeres på gimbalport nr. 1 mens M300 RTK er i Single Gimble-modus.

Hvilken posisjon registreres av bildene tatt av P1?

På bilder tatt av P1 blir utgangspupillens posisjon midt på kameralinsen registrert.

Hvordan fungerer Smart Oblique Capture?

I Smart Oblique Capture vedtar P1 en skyteordre på nadir, front, venstre, bak og høyre. Dette er den optimale skyteordren for skrå fotogrammetri datainnsamling.

Hva er kameraets tiltvinkelområde under Smart Oblique Capture of P1?

Under Smart Oblique Capture er tiltningsvinkelområdet til P1 fra -60 ° til -90 °.

Hva er forholdet mellom bakkeprøveavstanden til dataene samlet inn av P1 og flyhøyde?

Forholdet mellom bakkeprøveavstand og flyhøyde er forskjellig mellom linser som følger:
· 24 mm linse: GSD = H / 55
· 35 mm linse: GSD = H / 80
· 50 mm linse: GSD = H / 120

Hvor GSD måles i centimeter (cm) og målavstanden (H) måles i meter (m).

Støtter linsen zooming? Hvordan fokusere under drift?

Nei, zooming støttes for øyeblikket ikke. Autofokus kan brukes i rutemodus. Manuell fokus er nødvendig i manuell modus.

Hva er modusen P1 med lav støy og høy følsomhet?

Modusen med lav støy og høy følsomhet på P1 kan forbedre kameraets følsomhet (ISO) og samtidig redusere støynivået.

I hvilke kartleggings- og kartleggingsscenarier kan P1 brukes?

P1 kan brukes i flere kartleggings- og kartleggingsscenarier, inkludert:
· 2D-ortomosaikk
· 3D-skrå
· Detaljert modellering
· Kartlegging i sanntid

Hvilket innhold inkluderer feltarbeidsrapporten?

Etter at et flyoppdrag er fullført, genereres en feltarbeidsrapport for piloter for raskt å bekrefte kvaliteten på feltdata på stedet. Informasjonen inkluderer:
· Plasseringen til hvert bilde;
· Antall bilder;
· RTK-posisjonsstatus og nøyaktighet.

Hva registrerer nyttelasthelsestyringssystemet?

The P1 is connected to the payload health management system in DJI Pilot to record the following:
· Service time of devices
· Historical abnormal status
· Usage count of the shutter
· Swing count of the gimbal
Corresponding suggestions on abnormalities and maintenance are then provided to ensure the best performance.

Støtter M300 RTK PPK etterbehandling når den brukes med P1?

Yes. The task folder stores photos, original GNSS observations, and TimeStamps.MRK files, which are used for PPK post-processing calculations.

Hvilke typer APP-kontroll støtter antenneundersøkelsesløsningen til M300 RTK og P1?

Currently, only DJI Pilot is supported.

Hvilke driftsmodi støtter P1?

The P1 supports the following operating modes:
· Aerial photography
· Oblique photography
· Corridor mapping flight
· Waypoint flight
· Manual operation

Hva er TimeSync 2.0-funksjonene når du bruker M300 RTK og P1-oppmålingsløsningen?

The following TimeSync 2.0 features are available:
• Output the exposure time interval in microseconds;
• Time synchronization for the camera, the gimbal, the flight control system, and RTK;
• Brand new position and orientation compensation function which writes precise exit pupil positions of the camera into the photos based on the positions and orientations of the drone and the gimbal.