Fordeler ved å handle hos DJI Oslo:
✔ Norges offisielle DJI butikk
✔ Rask produktsupport
✔ Hurtig reparasjon
✔ Rask levering
✔ Kjøp nå, betal senere
✔ Først i Norge med nye produkter
Produktinformasjon
Materiale
DJI's industrielle platform. Bygget for å utholde ekstreme forhold. Ta kontakt med post@authorized.no for et uforpliktende tilbud.
Høy-ytelsesmotorer kombinert med 17 tommer propeller sikrer stabil flyvning selv i kraftig vind. Det nye doble batterisettet oppvarmes automatisk for trygg flyvning i kaldt klima, smart design sørger for vær- og vannmotstand.
Alltid klar.
​Matrice 200 pakkes sammen og gjøres klar effektivt og hurtig. Festeplater og armer er festet under transportering. Slik at du alltid er klar på bare noen få minutter.
Ulike bruksmuligheter
Vi skreddersyr pakker som passer til ditt bruk. Ta kontakt med oss for et uforpliktende tilbud. Vi vil veilede deg for å dekke dine behov.
Kort sammenligning av Matrice 200/210/210-RTK
Matrice 200 kan kun bære en gimbal.
Matrice 210 kan ha to monterte gimbaler og en toppmontert gimbal.
Matrice 210 RTK har tre GPS-enheter som gir økt presisjon og motstandsdyktighet mot metallkonstruksjoner og elektromagnetisk stråling.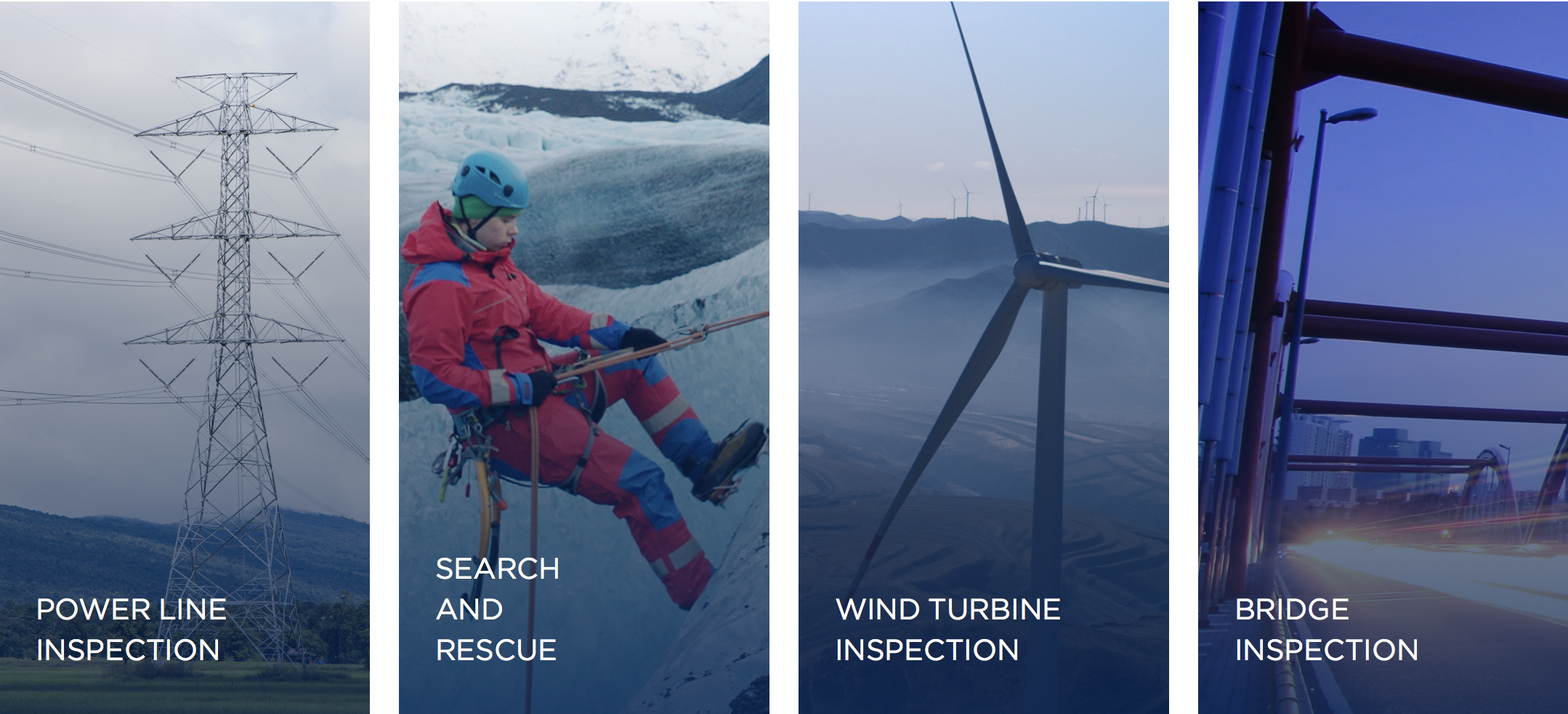 1. Hvilke kameraer og gimbaler er M200 serien kompatibel med?
M200 serien støtter for øyeblikket Zenmuse X4S, Zenmuse X5S, Zenmuse XT og Zenmuse Z30.
2. Har M200 serien et Obstacle Avoidance/FlightAutonomy system?
Ja, M200 serien har et robust FlightAutonomy system med totalt 7 sensorer. Et Forward Vision System kan oppdage hindringer 30 meter unna. Mens en toppmontert infrarød sensor kan oppdage sensorer 5 meter unna. Et Downward Vision System gir mer stabil og presis flyvning.
3. Hva er hovedforskjellen mellom M100, M200 og M600 serien?
Hovedforskjellen mellom M200 serien og resten av Matrice serien er dens lukkede skall, som gjør den mer bærbar, enklere i bruk og mer solid. I tillegg kan M210 serien enkelt ha plass til flere nyttelastkonfigurasjoner. Noe man tidligere ikke har sett på en drone.
4. Er en kasse inkludert med min M200 serie drone?
Ja, din M200 kommer med en solid og tilpasset kasse som trygt kan frakte dronen dit du skal. Kassen rommer nok plass til 6 TB50 eller TB55 batterier, 2 kameraer, 2 sett med propeller, en fjernkontroll, en lader, en ladestasjon og en CrystalSky eller en tablet.
​5. Hva er IP43 beskyttelsesklasse, og i hvilke scenarioer kan M200 bli beskyttet under IP43?
IP43 innebærer at Matrice 200 serien kan bli beskyttet mot objekter større enn 1 millimeter, og fra vannsprut mindre enn 60% vertikalt. IP43 kan beskytte M200 i tøffe forhold, selv i lett regn og i områder med mye støv.
​6. Kan jeg bruke Matrice 200 serien på en dag med regn? Og hva må jeg tenke på ved flyvning i regn?
Ja, det kan du. IP43 beskyttelse gir Matrice 200 muligheten til å fly i forhold med lett regn (under 10mm/t regn). Men med mange bevegelige deler er det noe man må ta i betraktning:
1. IKKE pakk sammen armene til dronen i regn. Tilse at alle deksler er ordentlig lukket og tette.
2. IKKE snu dronen opp ned. Vinkelen regnet har mot dronen bør ikke overstige +/- 60 grader når en flyr på regnfulle dager.
3. BRUK IKKE en ekstern GPS modul ved flyvning i regn.
4. Tilse at batterirom er tørt før du monterer batteriene.
5. Bruk TB50/TB55 batterier som tilhører Matrice 200. Inspire 2 bruker tilsvarende TB50 batterier, men disse er ikke vanntette.
6. Bare dronen er beskyttet med IP43 kategori. Kameraer er ikke dekket av denne beskyttelsen.
7. Vil jeg bli dekket av garantien dersom jeg får vannskade på min M200/M210/M210RTK?
Nei, vannskade er ikke dekket av garanti.
8. Er det nødvendig å sjekke min M200 drone etter flyvning i forhold med mye sande?
Når du flyr i områder med mye sand og støv er det anbefalt at piloten sjekker fartøyet etter flyvning ettersom fartøyets skall ikke er helt tett mot små partikler. Det er spesielt viktig at piloten undersøker lukkemekanismen til armene, og motorer for løse partikler som potensielt kan skade dronen.
9. Kan jeg ha med M200 batterier på fly?
De fleste flyselskaper tillater TB50 batterier ombord på et fly. Men det er sannsynlig at det oppstår problemer dersom du vil ha med TB55 batterier ettersom disse overstiger grensen for mange flyselskap. Vi anbefaler å sjekke med ditt flyselskap på forhånd. Ved transport på fly anbefaler vi uansett å utlade batteriene til mindre enn 30% for optimal sikkerhet.
10. Hva skjer om ett av de to batteriene svikter?
DJI GO 4 vil kontinuerlig overvåke batteriene og gi beskjed dersom det oppstår ett problem på ett av batteriene. I det tilfelle, land fartøyet øyeblikkelig.
11. For M210RTK modellen, er det noe ekstra oppsett som kreves for dette fartøyet?
Ettersom RTK enheten er innebygd i dronen, er det eneste du må gjøre å brette ut armene og skru på bakke-enheten før du flyr.