Fordeler ved å handle hos DJI Oslo:
✔ Norges offisielle DJI butikk
✔ Rask produktsupport
✔ Hurtig reparasjon
✔ Rask levering
✔ Kjøp nå, betal senere
✔ Først i Norge med nye produkter
DJI Ronin-S Essentials Kit
Ikke på lager
Ronin-s i en rimligere utgave. Se Materiale for hva som følger med.
Produktinformasjon
Materiale
Faq
Ronin-S er designet for DSLR og speilløse kameraer. Ronin-S tilbyr avansert stabilisering, presis justering og manuell fokus kontroll. Med Ronin-S kan filmskapere utforske friheten med å filme stabile opptak.
Design
Ronin-S sitt innovative rammeverk forhøyer kameraet over rulleaksen, noe som gir fri sikt til kameraets display. Det ergonomiske designet fjerner unødvendig risting og ustabile opptak mens du bytter fra toppholdt til undermontert oppsett.
SmoothTrack
Med bare en hånd, SmoothTrack teknologi gjør det enkelt å endre kameravinkel uanstrengt. To tilpassede parametere gjør det mulig å lagre dine SmoothTrack innstillinger med ett enkelt trykk. Med egen sportsmodus blir Ronin-S mye mer responsiv slik at du kan holde følge med all slags bevegelse.
Allsidighet
Ronin-S kan enkelt monteres på en radiostyrt bil for lav-vinkels opptak. Den dedikerte DJI Focus Command Unit kan monteres på Ronin-S, noe som tillater operatører å justere fokus.
Eco-System
Vi forstår at noen ganger trenger du mer enn bare en gimbal for ditt prosjekt. Flere tilbehørs-fester er beviglet på Ronin-S, noe som gir deg mulighet til å montere tilbehør som mikrofoner, LED-lys, eller til og med en trådløs videosender. Kompatibilitet med DJI kontrollenheter som Force Pro tilbyr intuitiv kontroll. Master Wheels vil også kunne tilby fjernoperatører millimeterpresise bevegelser.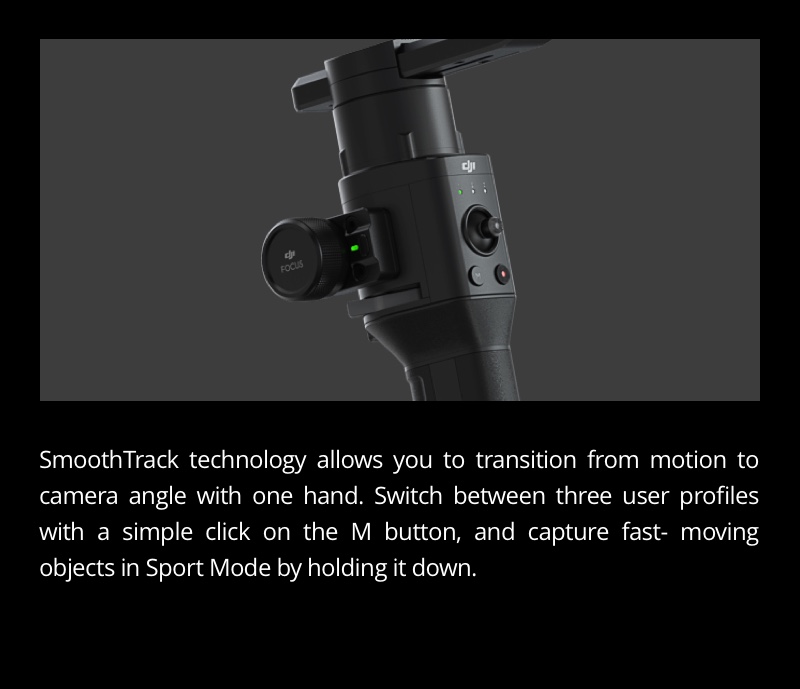 Klikk her for å se liste over kompatible kameraer til Ronin-S.
GENERAL
What is the tested payload capacity of the Ronin-S?
We have tested a payload capacity 3.6 kg (8 lbs.) while maintaining optimal performance.
What is the operating temperature of the gimbal system?
-20°C (4°F) to 45°C (113°F).
Is the Ronin-S Camera Mounting Plate compatible with any quick-release system?
The Ronin-S Camera Mounting Plate is compatible with Manfrotto 501PL type. You can simply dismount the camera setup from Ronin-S, then mount it onto a compatible tripod or fluid head system.
How do I update the Ronin-S's firmware?
To update the firmware, power on the Ronin-S and connect it to a PC or Mac computer, then use DJI Pro Assistant for Ronin.
Does the Ronin-S come with a tripod?
Yes. And you can collapse it into an extended grip for better handheld operation.
Does the Ronin-S come with a carrying case?
Yes.
Can I control Red or Arri cameras on the Ronin-S?
The Ronin-S does not support control of these cameras.
COMPATIBILITY AND CONNECTIVITY
How do I know if my camera is compatible with the Ronin-S?
Click here to view the Ronin-S's Camera Compatibility List.
What is the longest focal length supported by the Ronin-S?
According to our tests, the Ronin-S can capture stabilized footage with a 5D Mk IV + EF 85mm f/1.4L IS USM lens in handheld scenarios.
What accessory power interfaces are supported by Ronin-S?
8-pin connectors on both sides of the control panel can provide power and can be used to connect with the Ronin-S Focus Wheel. The dual 4-pin CAN Bus connector beneath the camera carriage can provide up to 24W of power for a range of DJI accessories.

The RSS interface can be connected to compatible cameras via dedicated cables to access camera features including start/stop video recording and camera parameter adjustments.
INTELLIGENT BATTERY
What kind of battery does the Ronin-S use?
The Ronin-S uses an RB1-2400 mAh- 14.4 V Intelligent Battery.
How long is battery life on the Ronin-S?
A fully charged battery can power the Ronin-S continuously for 12 hours if the gimbal is properly balanced.
How long does it take to fully charge the battery?
It takes approximately two hours to charge the battery fully when using the 24W USB Power Adapter,
How do I charge the battery?
Connect the grip to the Ronin-S gimbal and charge the built-in battery via the USB-C interface. An optional battery adapter will also be available to enable battery charging/discharging without attaching to the gimbal directly.
IN-APP PARAMETER ADJUSTMENT
What's Auto Tune?
The Ronin-S's Auto Tune can automatically calibrate motor stiffness based on mounted payload and tuning aggressiveness. Auto Tune can be accessed via the "Configuration – Motor Parameters" page. Before performing Auto Tune, mechanical balance adjustment is necessary. Three preset Auto Tune aggressiveness levels can help you modify the stiffness output value. The Low preset is optimized Auto Tune for scenarios where only slow movement is involved. When the Ronin-S is mounted to a vehicle or used for a fast-moving scene, the High preset can ensure optimal gimbal performance. The Mid preset is designed to provide a satisfactory outcome for most cases and is the default setting.
What is SmoothTrack?
SmoothTrack enables the Ronin-S to intelligently react to and follow the operator's movement without input from a second operator. You can selectively enable SmoothTrack on the Pan, Tilt, and Roll axes on the Ronin-S. For further instruction on using SmoothTrack, please refer to the manual.
How do Motor Stiffness Settings work?
Motor stiffness values determine the strength of the Ronin-S's motors to maintain the camera's position, which is critical for maintaining stability. Heavier payloads mounted to the gimbal require higher stiffness value to ensure stable performance. Inadequate stiffness values will result in an inability to offer optimal stabilization. If you're unsure about which values to set, simply use Auto Tune to let the Ronin-S calculate the optimal motor stiffness.
What is System Calibration and when should I use it?
System calibration is designed to counteract gimbal drifting caused by accumulated sensor errors. Before initializing the calibration process, the Ronin-S must be placed on a level surface without being disturbed.

Use System Calibration when you notice that the gimbal is drifting or when the horizon is tilted.
INTELLIGENT CONTROL
What can I do with the Ronin app?
The Ronin app allows you to set up and fine-tune gimbal performance with settings for features like SmoothTrack, motor parameters, and various intelligent functions.
Can I use a wireless remote controller with the Ronin-S?
Yes, you can. The Ronin-S is compatible with the DJI Master Wheels and Force Pro when connected when using the DJI Pro Wireless Receiver. The Ronin-S can also be connected with D-Bus compatible systems such as the Futaba series via the port on the Focus Wheel.
Does the Ronin-S contain a GPS module? What is its purpose?
The Ronin-S doesn't come with a built-in GPS module. However, an optional GPS module will be available for car mount scenarios to eliminate gimbal attitude errors that may occur under high G-forces.
What intelligent features does the Ronin-S support?
Timelapse, Motionlapse, Panorama, and Track.
What is the wireless control range of the Ronin-S?
When controlled via the Ronin mobile app, the range is around 10 m. When connected to third-party control systems, the range might vary. Please consult with your system's documentation for range details. When connected to the DJI Pro Wireless Receiver, the control range can be extended up to 3 km (2 mi) when there is no obstruction or interference present.
How many waypoints can I set for Motionlapse?
You can set up to five waypoints for Motionlapse.
Is the Ronin-S's joystick multidirectional?
Yes, the joystick is multidirectional, allowing you to move up, down, left, right, and in all diagonal directions.
What does the Front Trigger do?
The Front Trigger allows you to instantly turn off SmoothTrack, re-center the gimbal, and turn it around 180°. For example, holding down the Front Trigger allows you to transition between Upright and Underslung Mode in one seamless movement.
Can I reposition the gimbal by using my hands?
Yes, the Ronin-S supports Push Mode in the Pan, Tilt, and Roll axes, allowing you to reposition the gimbal by using your hands.
[1] Slingrebøyler (engelsk: gimbal) er en innretning som gjør det mulig for et instrument eller gjenstand, å holde seg mer «i ro» under bevegelse.

Rask levering (Hentes daglig, 1-3 dager leveringstid)